PROJECT VOLUNTEERING OPPORTUNITIES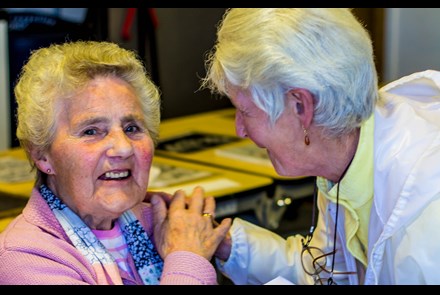 Volunteers from Twechar and surrounding areas were offered a range of training and volunteering opportunities, and learned a great deal when working with the project.  Here is an outline of some of the activities made available to volunteers.  

Please note that the Twechar Healthy Living and Enterprise Centre runs additional training and work experience programmes on a regular basis.


Oral History Programme
Volunteers attended a 2x day oral history training programme and several review workshops delivered by Dr Sue Morrison, Oral History Research & Training Consultancy.  They were then supported to record interviews with Twechar residents talking about their lives growing up and living in the village.  The recordings were used to create several outputs for this project and then deposited with an authorised repository and made accessible to researchers and the public.  Volunteers received an oral history training certificate for their work.
Some volunteers attended a further ½ day audio editing workshop to enable them to create sound clips for use in the project outputs.

Film making Workshops
Volunteers attended evening workshops delivered by Tim Mitchell, Rubikon Pictures.  They learned about lighting, angles and composition techniques and how to make the best use of digital editing software.  Volunteers then created and edited films about one of Twechar's most loved residents - The Coachie Bear!  These have been uploaded to YouTube and this new project website. 


Creative Writing Workshops
Volunteers attended a series of evening workshops where they learned generic creative writing skills.  They then further developed their skills when progressing to more detailed work, which used the oral history testimonies generated by this project.  Volunteers created their own short stories, which have been uploaded to the project website and displayed in the Twechar Healthy Living and Enterprise Centre. 
Volunteers also had an opportunity to work with the tutor to create a piece which was adapted and performed by the drama group.

Drama Group Workshops
Working with the Creative Writing Tutor, volunteers adapted and performed work created by the creating writing group.  The resulting performance(s) were staged fat the project launch.
 
Researchers
Volunteers worked with the project co-coordinator and archivists from East Dunbartonshire Leisure and Culture. The focus of this research work was the history of Twechar, its mining industry, places of interest and Twechar people.
 
FOR MORE INFORMATION ABOUT VOLUNTEERING IN TWECHAR
Tel:  01236 827154

Heritage Projects: info@twecharpitvillage.com
General enquiries and other volunteering opportunities
Email:  info@twecharhlec.org.uk