Education and Play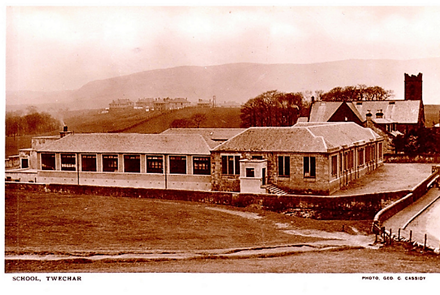 Twechar School opened in 1888 with an Infant Department after The Kirkintilloch (Landward) School Board decided to build a school in the village to meet the educational needs of the mining community. The school build was completed and fully operational by 1889. Older children, many of them already working at the pits, attended Continuation Classes during the evenings. The school roll increased over the years and new classrooms were built in 927, followed by a Junior Secondary Department in 1937, which meant that children could continue to be educated locally rather than have to travel to Townhead School or Lenzie Academy. However, the Junior Department closed in 1966 and pupils then had to travel to Cumbernauld High School or the new Kirkintilloch High School. A 'Mining Room' was also added in 1937 to train youngsters in the skills needed for the coal mining industry; this was partly funded by the Miners' Welfare to ensure their employability.
Twechar School continues to educate young children from the village between nursery age and P.7. The building also houses a Language and Communication Resource which provides support for East Dunbartonshire children with additional support needs in language or communication, and the East Dunbartonshire Council Teaching and Learning Centre is based within the school building.
Many of our respondents have vivid memories of the school.
ORAL HISTORIES
"I went to Twechar school - I liked school. I was good at English and housewifery. They had a bedroom at the school and someone would get picked to go into it and dust it, clean it and make the bed. It was teaching you how to do things. We would take washing down there too. They had big sinks and wringers, and the teacher would tell us to bring a white shirt and she would show you how to clean the cuffs and the collar the old-fashioned way, on a washing board. They also had a pulley to hang things on and we went back the next day and were taught how to iron it. We had sewing machines and we were taught how to sew too. I think that was the best thing but now, in the schools, they have taken it all away. The boys did woodwork and played football – we had netball too. They taught us to bake as well. In my opinion, it was a good thing because some of the weans these days don't know how to do things."
Christine Kelly
"Mrs Smith (Doddie) was the headmistress and Mr Brown the Headmaster.  When I left Twechar and went to Cumbernauld High and it was the same heidteacher Mr Broon and Big Jimmy Sinclair there, I thought, I cannae believe that we come from Twechar and they're following us here - they're going to haunt us all our days!"
Agnes Byrne
"I went to Twechar School, some of my teachers were Miss Neil, Miss Pettigrew and Mr Sinclair. There were certain boys in my class who never had the belt and one day we were out playing football and the bell had rung and none of us bothered. We were then all lined up, certain boys who never had the belt were greeting before they even got it – before their turn – I won't say their names. The belt was also known as the 'tawse' - a big piece of leather with 'tongues' at the end of it. I can't remember how many times I got it that day - but a thousand time we got it!"
Jim Cowie
"We played at skipping ropes, emptied tins and filled then with dirt to play at beds and made stilts out of tins and string. My pals were Flow White, Jean Neil, Jean Smart and Cathy Lynn."
Agnes Hendry
"When I was a teenager, we used to sit at the rent office on summer nights. When it was 'double summer', you got an extra hour in March and then another extra hour later, maybe in May, and that was 'double summer'. You had two hours and it was clear to 12 or 1 o'clock in the morning." 
Mary (Brown) Kennedy
I remember the Coronation of Queen Elizabeth II, we all got presented at school with cups and saucers. We had a street party and all the neighbours got together, we thought it was wonderful – the Union Jack up and everything. We had a television, we were one of the first to have a telly.  My pals Isabel and Julie used to come in to watch it.  It was a wee tiny thing and we all used to sit round it on the floor and watch it.  
Christine Kelly