Creating a Family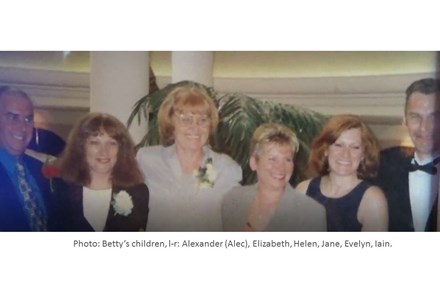 Betty and her husband learned from an advertisement in a national newspaper that six siblings in Kirkcaldy required live-in foster parents whilst their own parents were absent from home. The children were housed by Fife Council in a six-apartment house and the foster parents would have to move in. Two children were pre-school age, another two were in primary school and the eldest two had recently moved up to high school. After two years, the birth parents had not returned and Betty and her husband asked if they could take the children to live in Twechar. The Council granted their request and the family moved into a large house in Macdonald Crescent. They've been a family ever since.
Photo: Betty's children, l-r: Alexander (Alec), Elizabeth, Helen, Jane, Evelyn, Iain.
When asked what it was like to take on six children at once, Betty said, "Never thought about it, because when my husband and I took them on, it was just like fostering, and we were there to be their parents." Now, with 13 grandchilden, 18 great grandchildren, and two great great grandchildren, what began as temporary fostering became a permanent vocation and a wonderful new, and very large, family!
Elizabeth (Betty) Mitchell